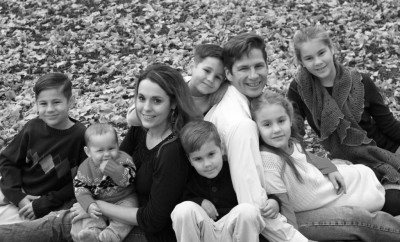 Hi, I'm Angela Coffman, owner of Angela Coffman Designs.  I have 6 sweet children.  Heidi is 12, Caleb 10, Heather 8, Warren (Aka "Dub") 6, Brandon 4, and Grant is 8 months. My handsome husband, Darren works as an accountant, but his heart is in farming.  I have been a homeschool mom for 7 years and this year experimented with sending Heather and Caleb to private school while still homeschooling Heidi and Dub.  Heather and Caleb loved it so much that we are planning to send Heidi and Warren there next year.   
 Angela Coffman Designs is a digital sewing pattern company, specializing in designs for growing families.  That means we will have things for nursing, maternity, and baby gear–but plan to expand into patterns for older children too.  Our patterns are formatted for you to download and print on your home computer, then tape together for instant sewing access.  Now you can purchase your pattern and stitch it up the same day! Plus no more tracing sizes.  Cut on the size you need and if you need another size, you can print it any time.
If at anytime you have a question about your pattern, email me at angela@angelacoffman.com That email goes directly to me.  Gold star customer service is very important to me so I will take good care of you.
My original pattern company launched in 2005 under the name Blessed Designs.  In the beginning we only offered 3 designs that were printed on tissue by the McCalls pattern company.  To get designs out more quickly, I moved my printing business to blueprint shops which printed on bonded white paper.  But as we added more and more children to our family, I realized I would have to change gears or close shop.  I just couldn't keep up with my home  responsibilities and printing, folding, and shipping for the business as well.  Well, hooray for technology and automated systems which allowed me to keep the door open.
In addition to running Angela Coffman Designs, I also run Grocery Shrink, a website dedicated to frugal living, and just for giggles I sell Mary Kay on the side.